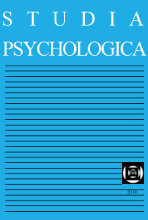 STUDIA PSYCHOLOGICA
JCR Impact Factor 0.850
Studia Psychologica is an international, indexed journal published by the Institute of Experimental Psychology CSPS SAS since 1956. Studia Psychologica has been an open-access journal since 2016, which means that all articles published in the journal are available for download free of charge.
The journal only publishes original articles in the field of psychology focusing on cognitive and emotional processes in a personal, social and developmental context. If you are interested in publishing in our journal, see
https://www.studiapsychologica.com/
for more information.
An archive of all articles can be found at:
https://www.studiapsychologica.com/index.php/view-articles/
.